Frenulotomy for Tongue-tie (Ankyloglossia)

Tongue-tie (ankyloglossia) is a congenital anomaly which may decrease movement of the tip of the tongue. It is caused by an unusually short, thick lingual frenulum, a membrane connecting the underside of the tongue to the floor of the mouth.
Surgery usually consists of snipping the frenulum (frenotomy) or surgical revision of the frenum (frenectomy, frenulectomy, or frenuloplasty).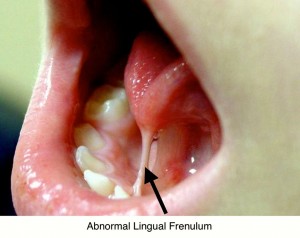 Please call our office at 817-332-8848 to set up an appointment or submit an online appointment request.