The Pillar® Procedure is a minimally invasive surgical treatment used to reduce chronic snoring and treat mild to moderate obstructive sleep apnea (OSA). The Pillar® Procedure involves the placement of small woven implants into the soft palate. These implants stiffen the soft palate resulting in a reduction of tissue vibration and relaxation. The Pillar® Procedure is typically performed as an in-office procedure using local anesthesia and often takes less than 30 minutes to perform.
Patients Treated With The Pillar Procedure Report
Significant decrease in intense snoring
Reduction in apnea hypopnea index (AHI), sustained at one year post-procedure
Satisfaction of sleeping partner for 80% of patients
Reduction in daytime sleepiness
Significant lifestyle improvements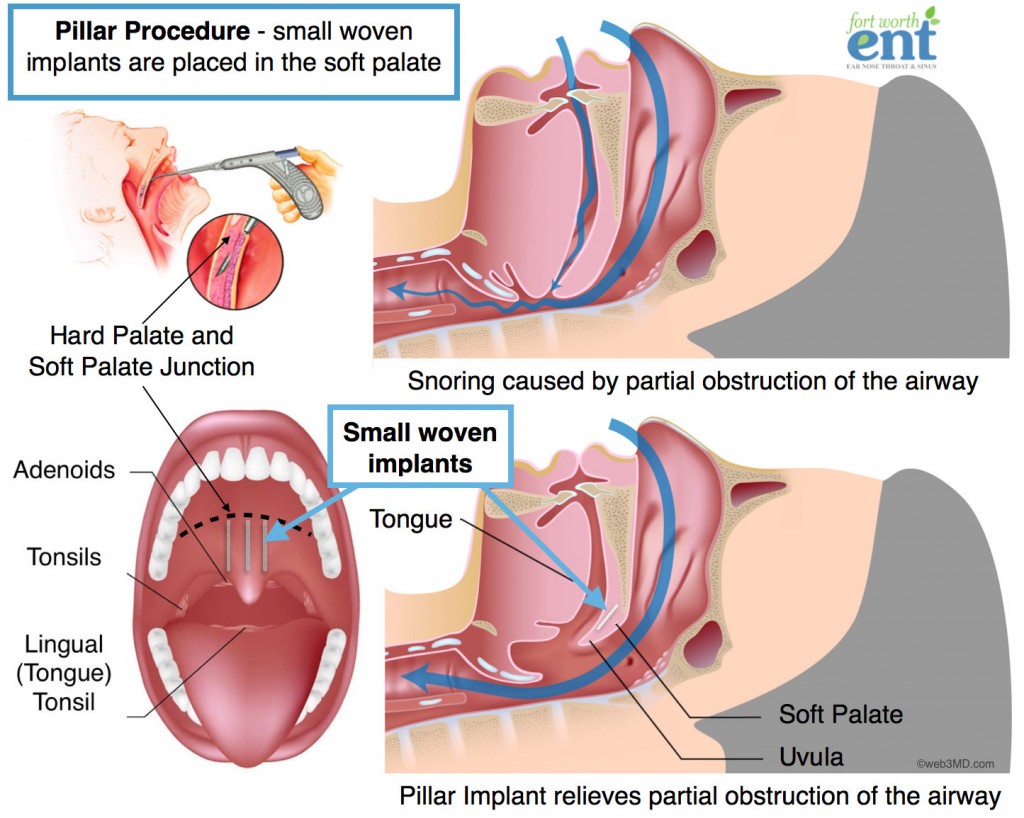 How the Pillar Procedure Works
Snoring occurs when muscles in the soft palate relax and vibrate during sleep. When the soft palate tissue collapses or blocks the upper airway, it is called obstructive sleep apnea, a potentially dangerous condition that can cause serious medical problems, such as heart disease and high blood pressure. Research suggests that over 80% of snoring and OSA involves the soft palate.
During the Pillar® Procedure, a topical anesthetic is applied to the soft palate to numb the area where a local anesthetic will be injected. Three polyester rods are then embedded into the soft palate using a specialized, disposable delivery tool. These small palatal implants are approximately 18mm (0.7 inches) long with a diameter of about 2mm (0.08 inches). The polyester material used in the implants has been successfully utilized in implantable medical products for over 50 years.
Once placed, the implants add structural support and stiffen the soft palate, which reduces the vibration that produces snoring and keeps the palatal tissue from collapsing and obstructing the airway during sleep. The Pillar® implants are designed to remain in place permanently for long-lasting effectiveness.
The Pillar® Procedure does not involve the removal or destruction of any tissue, and most patients can resume normal activity and diet the day of treatment. Medications that may be recommended after your Pillar® Procedure include:
Anti-inflammatories to reduce swelling and alleviate any temporary discomfort
Antiseptic rinse
Antibiotics to prevent infection
Benefits and Results of the Pillar Procedure
Results of the Pillar® Procedure may be noticeable within 6 weeks or may take up to 3 months to be fully realized, as the soft palate hardens around the implants. Over 80% of patients who have undergone the Pillar® Procedure experienced a reduction in snoring or sleep apnea, with over 2/3 of patients reporting less daytime sleepiness. Other benefits of the Pillar® Procedure include:
Minimally invasive technique
Minimal discomfort
Long lasting results
Improved alertness
Convenience of a simple office visit, in most cases
Fast recovery
The Pillar® Procedure is not recommended for patients who have:
Severe obstructive sleep apnea
A significant obesity condition
Risks of the Pillar Procedure
The Pillar® Procedure is considered to be an extremely safe treatment with very few complications being reported. Temporary conditions that patients may experience include:
Sore throat
Difficulty swallowing
Sensation of a foreign object in the soft palate
These symptoms typically subside within a week after surgery. On extremely rare occasions (less than 1% in the U.S.), an implant has been replaced or removed due to protrusion through the tissue of the soft palate (partial extrusion). As with any surgery, an infection can occur after the Pillar® Procedure. If you develop a fever after receiving your implants, you should call your doctor as soon as possible.
If you suffer from disruptive snoring or mild to moderate sleep apnea, contact our Fort Worth ENT & Sinus office to find out if the Pillar® Procedure is right for you.
If you would like an appointment with one of our physicians at Fort Worth ENT & Sinus please complete an online appointment request or phone 817-332-8848.