The Pillar Procedure is an effective in-office treatment used to strengthen the soft palate and reduce the vibration that causes snoring and sleep apnea.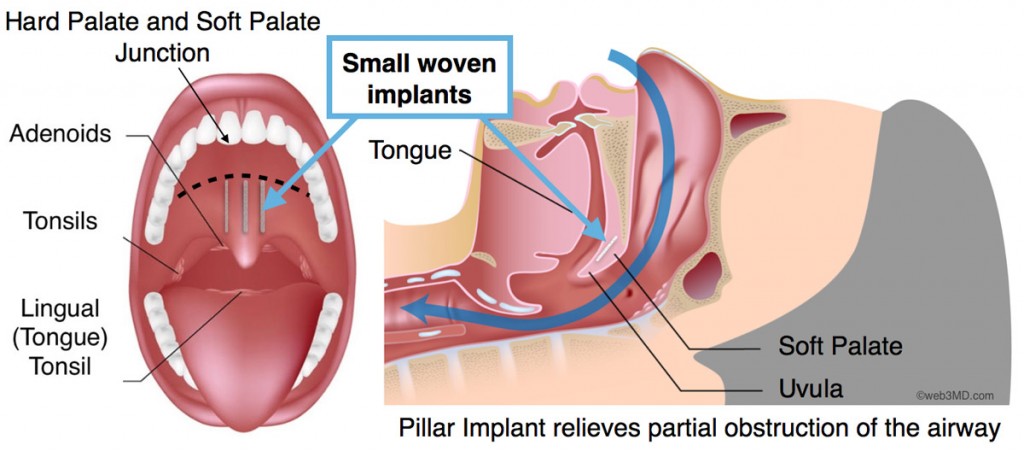 If you think you are suffering from sleep apnea or struggle with sleep deprivation due to snoring, there is a breakthrough procedure available that can be performed in-office, under local anesthetic. See how this simple treatment can benefit you.
What is snoring?
Snoring happens when the soft tissues in the throat vibrate and flutter, causing uneven airflow through the airways, which creates the noisy breathing sound that many are familiar with.
Although there are many home remedies and devices that can relieve snoring by various means, the problem of chronic snoring is often a symptom of something else occurring in the body, and can be a signpost to something serious.
Should I be concerned about my snoring?
If you have ever shared a room with someone who suffers with snoring, you would be familiar with the frustration of interrupted or low quality sleep. For those whose long-term partners are chronic snorers, it often results in regularly sleeping in different beds, just to ensure a full-night's rest.
For both the sufferer and the partner, the compound impact of restless nights causes a noticeable loss in energy and drive, as well as memory loss, headaches, nightmares and a reduced sex drive.
Beyond these basic issues, a common and more serious diagnosis is OSA (Obstructive Sleep Apnea), with an estimated 22 Million sufferers in the United States.
OSA occurs when heavy snoring is frequently interrupted by pauses in breathing, cutting off the steady oxygen flow to the rest of the body, making the body work much harder just to perform its normal functions.
Long-term side effects of Sleep Apnea can be elevated blood pressure, heart disease, stroke, and in some cases, though much rarer, it can cause sudden death due to heart complications.
Causes of Snoring and OSA (Obstructive Sleep Apnea)
Excess weight and obesity. Those who are overweight usually have bulky neck tissue, which has an increased likelihood of blocking the airways and causing the snoring sound. In addition, the throat tissue is less toned, and more susceptible to vibration during breathing.
Age. With age, comes weakening of the throat muscles, causing the tissue to sag and also causing vibration during breathing. Read more about OSA (Obstructive Sleep Apnea).
What are my treatment options for snoring?
Mild or occasional snoring remedies
Adopt a healthier lifestyle to become more athletic, toned and help you lose weight.
Get into the routine of good sleeping patterns. Regular and sufficient sleep will help.
Avoid sleeping aids, antihistamines and alcohol before bedtime.
Try sleeping on your side.
The Pillar Procedure – Breakthrough Snoring Treatment
The Pillar Procedure is an effective treatment used to strengthen the soft palate and reduce the vibration that causes snoring and sleep apnea.
This procedure is non-invasive and is done within 30 minutes at a medical office. Most patients resume normal activities the same day, with minimal pain that can simply be treated with over-the-counter pain relievers.
What is the Pillar Procedure?
A small number of tiny polyester implants are inserted into the soft palate with no incisions or stitches, and done under local anesthetic.
Over time, the palate is stiffened with the help of the body's natural response and its new structural support. This one-time procedure significantly reduces vibrations in the throat tissue, and provides a lasting reduction in snoring and its side effects.
This FDA-approved procedure has been given to over 45,000 patients worldwide, many of whom experience benefits within 6 to 9 weeks. For others, it can take up to 3 months for the full effects to be seen.
Clinical studies of The Pillar Procedure have shown that 80% of patients saw significant improvement related to their sleep apnea, a noticeable reduction in snoring, and better quality of sleep resulting in higher energy levels and less daytime sleepiness.
If you suffer from snoring or sleep apnea, or experience some of the symptoms, meet with your doctor to discuss diagnosis and what treatment options are available for you.
If you would like to learn more about this in-office treatment for snoring using the Pillar Procedure, please schewdule an appointment with one of our physicians at Fort Worth ENT & Sinus by completing an online appointment request or phone 817-332-8848.