Besides respiratory allergies like seasonal/hay fever, other common types of allergies treated include skin allergies, insect sting allergies, drug allergies and food allergies. Allergies in Fort Worth are treated at the Fort Worth ENT & Sinus Center, it starts with determining types of allergies the patient is experiencing. The type of allergy diagnosed will help your allergy specialist establish the best course of treatment for your allergic condition. Respiratory allergies are discussed on the Respiratory Allergy page, they include:
Seasonal/hay fever (usually triggered by pollen)
Mold
Dust mites
Pet dander
Other Common Types of Allergies
Skin Allergies – Contact Dermatitis
Skin allergies cause a reaction when an allergen comes in direct contact with the skin, often producing a red, itchy rash or hives (red, swollen bumps or welts, also called urticaria) in the affected area.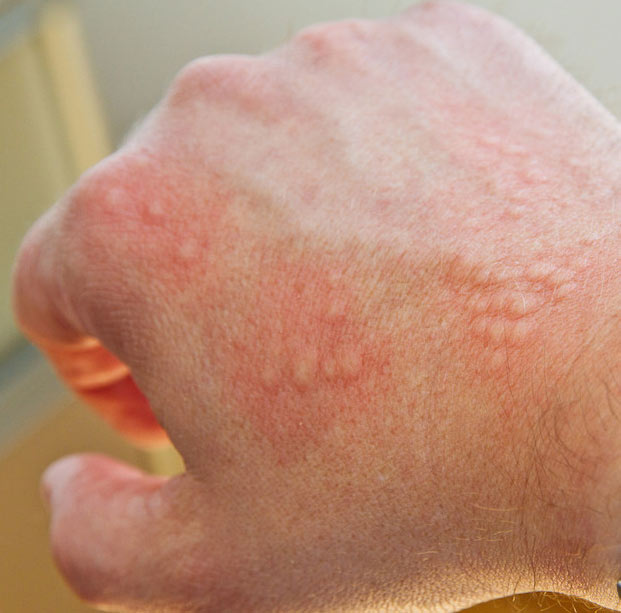 Common skin allergens include:
Plants (such as poison ivy, poison oak)
Nickel (metal often found in jewelry, clothing buttons or snaps, and toiletry items such as makeup, soaps, and lotions)
Latex
Chemicals/cleaning products
Fragrances, sunscreens, or bug spray
Medicated skin creams
Treatment for a skin allergy reaction includes alleviating the symptoms. Resist the urge to scratch, as that can worsen discomfort or lead to infection. Once you know what substance you are allergic to, you can typically avoid touching it.
Over-the-counter products are available to relieve itching and reduce swelling, including:
Calamine lotion
Hydrocortisone creams
Antihistamines
For more severe reactions, your Fort Worth allergy specialist can prescribe a stronger medication if necessary. Most rashes resolve within a few weeks and most skin allergies do not present life-threatening symptoms.
Insect Sting Allergies
Insect sting allergies are often confused with a typical reaction to an insect bite or sting. Most people develop swelling, pain, and redness around the site of the sting. Others may experience a large local reaction which causes a larger area of swelling, such as the entire leg or arm. This does not necessarily indicate an insect sting/bite allergy and generally resolves within a week or so. People who experience large local reactions to insect stings may have a much less severe reaction if stung again or may actually have a sting allergy.
Allergic reactions to insect stings or bites typically involve:
Pain
Redness/raised spots
Warmth at the sting site
Itching
Mild/moderate swelling
A severe allergic reaction to an insect sting can be life-threatening and should be treated as an emergency.
Symptoms include:
Difficulty breathing or swallowing
Hives beyond the sting site
Dizziness
Rapid pulse
Anxiety
Swelling of the facial area
Common insect stings which cause an allergic reaction include:
Bees
Wasps
Fire ants
Hornets
Yellowjackets
Because these insects' stingers contain venom, the area should be washed with soap and water as soon as possible to remove the venom. Ice packs applied to the sting site will help reduce swelling and alleviate discomfort. Over-the-counter medications to relieve itching can also be used.
If you feel that you are experiencing symptoms of a severe insect sting allergy, go to the emergency room or call 911 immediately. The American College of Allergy, Asthma & Immunology reports that the majority of insect stings in the United States come from wasps, yellow jackets, hornets, and honeybees.
Drug Allergies
Medication can be the cause of an allergic reaction in some patients. A person can be allergic to over-the-counter, herbal, or prescription medicine. Experiencing an unwanted side effect from a drug is not an allergic reaction.
Symptoms of a drug allergy typically present shortly after taking the medication and can include:
Runny nose
Itchy, watery eyes
Hives/rash
Itching
Swelling
Fever
Difficulty breathing
In severe drug allergies, anaphylaxis can occur
Common drug allergens include:
Penicillin and other antibiotics
Aspirin/nonsteroidal anti-inflammatory drugs
Corticosteroid creams
Bee pollen products
Chemotherapy drugs
HIV/Aids medications
Echinacea
Food Allergies
Food allergies are more common in children than in adults and can produce some of the most severe allergic reactions. Food allergies (or food hypersensitivities) are quite common with over 3 million cases treated per year in the U.S. Like other allergies, food allergies can present at any age or develop suddenly in reaction to a food that has been consumed many times with no reaction. Food allergy symptoms can range from mild (such as stomach cramps and delayed eczema) to severe (such as anaphylaxis).
Allergic reaction to foods can affect:
Skin
Gastrointestinal tract
Cardiovascular system
Respiratory tract
Any food can trigger an allergic reaction, however, there are 8 common foods that comprise approximately 90% of food allergy reactions:
Peanuts
Tree nuts
Eggs
Milk
Fish
Shellfish
Soy
Wheat
Symptoms of food allergies can include:
Hives
Stomach cramps or vomiting
Wheezing
Coughing repetitively
Shortness of breath
Tongue swelling/mouth or lips tingling
Tight throat or trouble swallowing
Dizziness or fainting
Weak pulse
Pale or blueish skin
Anaphylaxis
Most food allergy reactions occur within minutes of ingesting the allergen, but in some cases, can take several hours to produce symptoms. Some food allergens are more commonly outgrown as children age (such as eggs and milk). The best course of treatment for food allergens is avoidance. Your Fort Worth allergy specialist can advise you further on managing food allergies.
At Fort Worth ENT & Sinus Center, we offer a multidisciplinary approach to allergy treatment.  If you are looking for an allergy specialist in Fort Worth, please complete an online appointment request or phone 817-332-8848.