Treatment for Benign Paroxysmal Positional Vertigo
If you are diagnosed with benign paroxysmal positional vertigo, your medical specialist may perform a physical therapy procedure called the Epley maneuver as dizziness treatment. The Epley maneuver utilizes gravity to move the dislodged calcium crystals out of the affected ear canal. The maneuver involves positioning the head into specific angles to provoke vertigo for a period of 30 seconds, then moving the head 90 degrees to the opposite side for another 30 seconds.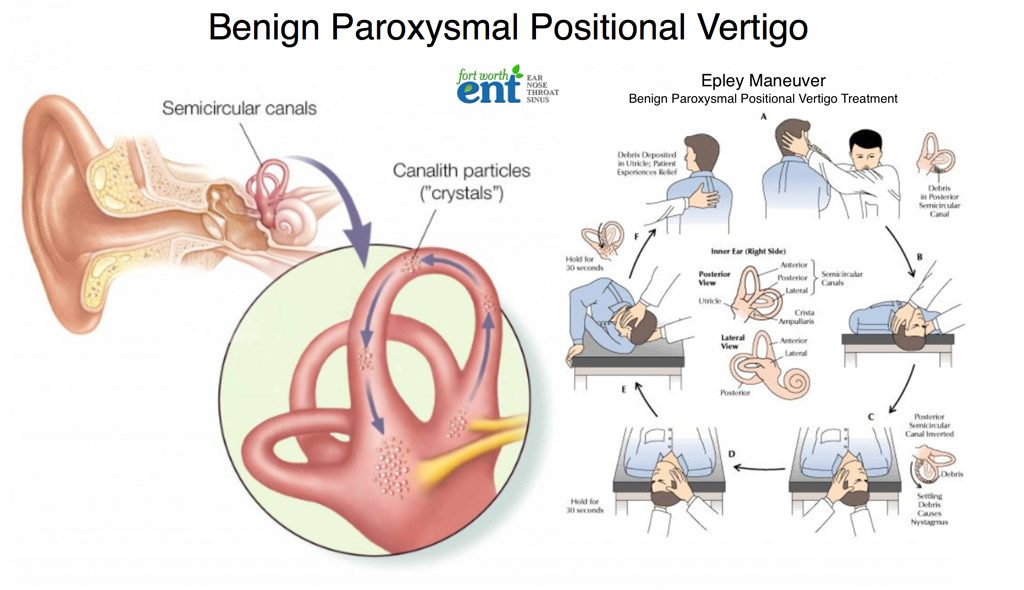 Next, the patient is placed on his or her side with the head angled downward at a 45-degree angle for 30 seconds and then brought back upright. These specially choreographed movements may be repeated several times to allow the crystals to flow out of the ear canal, thus stopping vertigo.
For cases of cupulolithiasis, your doctor may incorporate a rapid head movement called the Semont or liberatory maneuver to dislodge the crystals which are stuck before guiding them out of the ear canal. A device that causes vibrations behind the ear may also be used to help loosen the calcium crystals.
Other canalith repositioning maneuvers may be required depending on where the crystals are located, which is why it is imperative to seek medical help from a specialist trained to perform these technical movements.
Your doctor may recommend a neck evaluation and/or a neurological scan to ensure that treatment maneuvers can be performed safely or if they need to be modified. Some patients may be given vestibulosuppressant medication, or in extremely rare cases, a surgery called posterior canal occlusion (performed through a mastoidectomy approach) to block part of the inner ear may be needed to prevent the calcium crystals from moving back into the ear canal.
After Benign Paroxysmal Positional Vertigo Dizziness Treatment
Your specialist will give you specific instructions for home care after you have been treated for benign paroxysmal positional vertigo.
Post BPPV treatment instructions may include:
Sleeping propped up at a 45-degree angle or in a recliner for 2 nights
Keeping the head upright for 2 days (no bending over)
Avoiding certain head movements that can precipitate BPPV
You may be given exercise techniques to incorporate at home which can ease residual unsteadiness or motion sensitivity. Depending on the variant of BPPV you are experiencing, several treatments may be necessary for the condition to resolve. While treatments have shown to be highly effective (over 90% successful with 1-3 treatments), benign paroxysmal positional vertigo can often be a recurring condition with as many as 50% of patients experiencing another episode within 5 years of initial onset, especially in cases involving head trauma.
Treating the Symptoms of Benign Paroxysmal Positional Vertigo
While your doctor can teach you home maneuvers that may aid in resolving recurring BPPV, the calcium crystals are not always located in the same ear canal, therefore the maneuvers needed may be different in subsequent episodes. If you are experiencing recurring vertigo, try these steps to ease symptoms until you are able to consult your specialist:
Avoid sleeping on the side that brings on vertigo symptoms
Sleep propped up with 2 or more pillows
Avoid bending over if possible
Upon awakening, lift the head slowly and sit at the edge of the bed before standing
Sit down if you begin to feel dizzy
Seek emergency care if your vertigo is accompanied by:
Fever
Hearing loss
New or severe headache
Double vision
Loss of vision
Difficulty speaking or walking
Numbness and/or tingling
Falling
Weakness in the limbs
Loss of consciousness
At Fort Worth ENT, our otolaryngologists are specially trained to treat all manners of vestibular disorders, such as BPPV. We offer state-of-the-art technology with individualized care to provide every patient with the most optimal results. If you are experiencing dizziness and/or other symptoms of benign paroxysmal positional vertigo, please contact our office for an appointment. We also have a specialized team of physical therapists to assist you with treatment.
If you have questions concerning dizziness and would like an appointment with one of our physicians at Fort Worth ENT & Sinus please complete an online appointment request or phone 817-332-8848.