Allergy shots, also called immunotherapy, are a long-term allergy treatment that is designed to decrease allergy symptoms by lessening the body's sensitivity to allergens in Fort Worth through building up immunity to that specific allergen. Allergy shots contain a small amount of the substance that the patient is allergic to which is increased over time to allow the immune system to build up a tolerance to the allergen thus reducing the body's reaction. This desensitization to the allergen can take several years with shots being given 1-2 times per week at the onset and gradually decreasing to about one per month. Over the course of immunotherapy, allergy symptoms can be significantly reduced and in some cases, go away completely.
Who Can Benefit from Immunotherapy?
Allergy shots are especially effective in treating: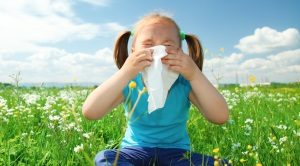 Seasonal allergies (hay fever/allergic rhinitis/pollen)
Insect sting allergies (bees/hornets/wasps/yellow jackets)
Indoor allergies (pet dander/mold/dust mites)
Allergic asthma
Eye allergies (conjunctivitis)
They are not typically used to treat:
Food allergies
Drug allergies
Chronic hives (urticaria)
Latex allergies
Adults and children over age 5 who have allergies in Fort Worth can benefit from immunotherapy. Children under 5 who suffer from allergies often cannot articulate adverse symptoms or cooperate with the intensive allergy shot schedule that is required for successful treatment. Immunotherapy, or allergy shots, can decrease your allergies by retraining the immune system to stop certain reactions.
Benefits of allergy shots can include:
Reducing the need for medication
Managing allergies to pollen, dander, mold, and insect venom
Allowing for more symptom-free days
Rush immunotherapy treatment is a treatment method that utilizes allergy shots given clustered together to encourage the body to accept a rapid buildup of the serum dose, improving symptoms faster.
Immunotherapy is often a good treatment choice for patients who:
Have symptoms not well-controlled with medication
Take other medications which interact with allergy medicine
Have severe insect sting allergies
Want to avoid taking allergy medications long-term
Patients with lung or heart problems or who take certain medications may not be good candidates for immunotherapy. Your Fort Worth allergist can advise you if allergy shots are a good treatment choice for your allergy condition. When considering allergy shots, keep in mind that a time commitment is involved (especially in the beginning stages of treatment) in order to receive the weekly/bi-weekly injections.
The Allergy Shot Treatment Process
Allergy shots are administered in a two-phase process:
Build-up phase: The initial treatment of building up the tolerance to the allergen involves 1-3 shots administered each week on separate occasions for approximately 3-6 months. The amount of allergen introduced into the body is gradually increased at each visit.
Maintenance phase: Once an effective dose of the allergen is achieved (which depends on each patient's sensitivity level to the allergen), injections will be given less often. Allergy shots are typically given every 2-4 weeks once the maintenance phase is reached.
A decrease in symptoms can begin right away, but typically the most improvement occurs after the first year of immunotherapy. For some patients, allergy shots can be stopped once their symptoms subside, while others need an ongoing maintenance program to control symptoms.
While allergy shots rarely result in serious adverse reactions, all patients are advised to stay at their doctor's office for 30 minutes after an allergy shot. This waiting period is a safety precaution in the rare instance that a patient has a significant reaction to the injection.
The most common reaction to allergy shots is temporary swelling or redness at the injection site. Some patients experience other mild allergy symptoms, such as:
Sneezing
Congestion or runny nose
Hives
Patients who experience severe reactions (such as difficulty breathing or throat and/or facial swelling) after they leave the 30-minute observation period should go to the emergency room for treatment.
Effectiveness of Allergy Shots
The degree of allergy shot effectiveness can vary greatly from patient to patient. Many people achieve long-lasting results from immunotherapy. Allergy shot success can be affected by several factors, including:
Number of allergies the patient has
Severity of symptoms
Length of the allergy treatment program
Dosage of allergen given
High allergen levels in the environment
Exposure to outside triggers (such as tobacco smoke)
Unidentified allergens
They can be a significant contributor to preventing new allergies and decreasing the risk of developing allergic asthma. Allergy treatment by our team at Fort Worth ENT starts with determining what type of allergy the patient is experiencing.
Common types of allergies include:
Learn more about the different types of allergies by clicking the links above. Fort Worth ENT also offers allergy drops or sublingual immunotherapy (SLIT) often used as an alternative to allergy shots, that involves placing drops of an allergen extract under the tongue to be absorbed into the body in order to build long-term tolerance to a substance that typically produces an allergic reaction in the patient. You can learn more about allergy immunotherapy by visiting the American Academy of Allergy Asthma and Immunology (AAAI).
At Fort Worth ENT & Sinus Center, we offer a multidisciplinary approach to allergy treatment.  If you are experiencing allergy symptoms and are interested in finding out if allergy shots are a good course of treatment for you, please complete an online appointment request or phone 817-332-8848.