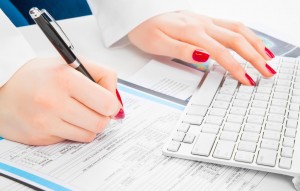 Welcome to Fort Worth ENT and Sinus. Please review our policies and instructions for completing our patient forms. They are provided to assist with scheduling and to minimize your time spent in our waiting room. Please review our cancellation policy below.
Patient Forms – Fort Worth ENT & Sinus
Medical History Form (English/Spanish)
Please download, print, and complete the Medical History form before coming to our office. This will minimize your time spent in the waiting room. Please also see the instructions below for Checking in Early.
Checking-In Early
Policies and Consents
Please read the following office policy, financial policy, authorization and consent, and assignment of benefits forms. You will be asked to sign each of these when you complete the interview via the Phreesia platform.
Compliance with the Red Flag Rule, Authorization and Consent Form, Office Policy, and Financial Policy (English/Spanish)
Notice of Assignment of Benefits (English/Spanish)
Medical Records Release Form
Cancellation Policy
If you have an upcoming appointment in our office, you will be required to confirm your appointment 48 hours before your appointment is scheduled, or the appointment will be canceled. Due to the high number of patients on our waitlist, we want to ensure that patients are committed to showing up for scheduled appointments, so as not to steal time from other patients that could be filling the time slot. You will receive a text message, e-mail, and/or phone call to confirm several days prior to your appointment. If you are unable to answer, please call our office back promptly, to avoid cancellation.
Please call our office at 817-332-8848 to set up an appointment or submit an online appointment request.