Vocal cord disorders occur when the vocal cords in the larynx (voice box) do not function correctly due to vocal nodules, polyps, laryngitis, vocal cord paralysis, and vocal cord dysfunction (VCD). The Fort Worth ENT otolaryngologists specialize in vocal cord disorders and are the official ear, nose, and throat physicians of the Fort Worth Opera. Voice problems can be successfully treated when diagnosed early by Fort Worth ENT otolaryngologists (ENT – ear, nose, throat doctors).
Vocal Cord Anatomy

The vocal cords, also known as vocal folds, are bands of muscle tissue located side by side in the larynx (voice box) which produce voice sound when air from the lungs passes through and creates vibrations. The shape and size of the vocal cords help determine the sound of a person's voice.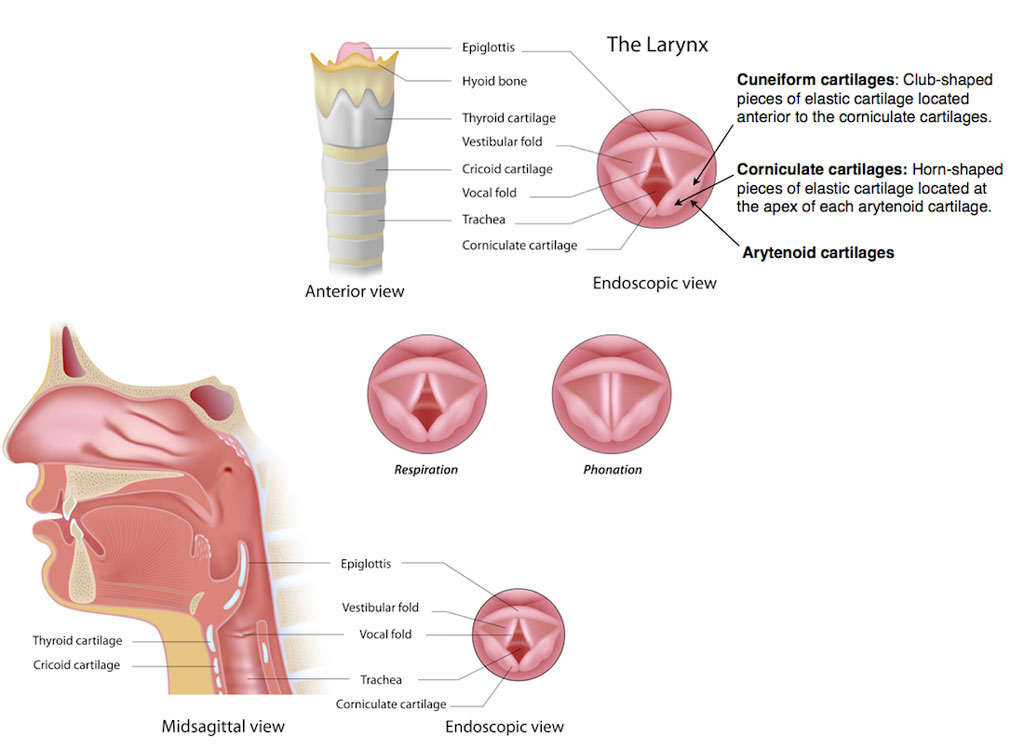 Vocal cord disorders often arise when the vocal cords are subjected to overuse or abuse. Other common causes of vocal cord disorders include:
Smoking
Allergies
Inhaling irritants
Excessive coughing
Hyperthyroidism
Gastroesophageal reflux disease (GERD)
Common Vocal Cord Disorders

Vocal cord nodules: Vocal nodules are small, callous-like, non-cancerous growths which form on the vocal cords, usually as a result of vocal abuse. The nodules typically appear in pairs (one on each vocal cord) at the area of greatest pressure when the vocal cords come together. Vocal cord nodules initially develop as soft, swollen spots and, over time, become stiffer and larger as the voice is abused. Nodules are often experienced by people who frequently overuse their voices, such as singers and cheerleaders.
Vocal cord polyps: Vocal polyps are soft, blister-like, non-cancerous lesions on the vocal cords, often due to vocal abuse or irritant exposure. Polyps usually appear singularly on the edge of the vocal fold, causing the voice to be breathy and hoarse and tire easily.
Laryngitis: Laryngitis is inflammation of the vocal cords resulting in a hoarse and raspy voice. Laryngitis can be caused by overuse of the voice, GERD, infection, or inhaled irritants.
Vocal cord paralysis: Vocal cord paralysis is a common disorder in which one or both vocal cords do not properly open and close, or may not move at all. Vocal cord paralysis can make speaking, or even breathing, difficult, and can actually be life-threatening if the patient experiences food or liquid slipping into the lungs or trachea. Vocal cord paralysis can be the result of:

Stroke
Tumor
Neck, head, or chest injury
Surgical trauma
Viral infection
Thyroid or lung cancer
Neurological disorders (such as Parkinson's disease or multiple sclerosis)
While vocal cord paralysis may resolve on its own, treatment can include voice therapy or surgery.
Less Common Vocal Cord Diseases and Disorders

Contact ulcers: Sores or erosions on the vocal cords, usually caused by using great force at the beginning of speech rather than increasing force gradually
Cancerous tumors: Malignant lesions or growths on the vocal cords which, if detected early, can be treated with radiation or surgery quite successfully
Laryngitis sicca: Condition in which inadequate hydration causes thick mucus that hinders the vocal cords from vibrating smoothly
Presbylaryngis: Thinning of the vocal cords that results in the cords' inability to come together fully, usually due to age
Laryngeal dystoria (spasmodic dysphonia): Spasms in one or both of the larynx muscles which causes vocal cords to close
Symptoms of Vocal Cord Disorders

Symptoms of common vocal cord disorders can vary, but generally involve a raspy, hoarse, or breathy voice. Other signs that you may have a vocal cord disorder are:
Neck pain
Sensation of a lump in the throat
Decrease in pitch range
Ear to ear shooting pain
Voice and/or body fatigue
Difficulty swallowing or coughing
A new study conducted by researchers from Michigan State University and University of Utah, funded by the National Institutes of Health as part of a larger research project on risk factors for voice problems and gender differences in speech, found that teachers, especially women, are prone to vocal damage. Click here for the article.
If you experience a hoarse voice for more than 2 weeks, or have a hoarse voice in conjunction with other symptoms, you should consult your doctor.
Diagnosing and Treating Vocal Cord Disorders

Diagnosing a vocal disorder will include a voice evaluation and possibly a consultation with a speech language pathologist (SLP). Your doctor will evaluate your voice quality for:
Range
Loudness
Pitch stability
Intensity
Ability to sustain voicing
Diagnostic Procedures for Vocal Cord Evaluation

In order to evaluate the type of vocal disorder you may have, your doctor may utilize:
Endoscope: Small, flexible tube attached to a tiny camera which is inserted through the nose to examine the larynx and vocal cords
Stroboscope: Flashing light used to view vocal cord movement
Laryngeal electromyography (LEMG): Procedure which measures electrical current in the vocal cords to determine the strength of the laryngeal nerves
Treatment of a Vocal Cord Disorders

Treatment of a vocal cord disorder will be determined by:
Age and general health
Medical history
Cause and prognosis of condition
Tolerance for certain therapies, medications, or procedures
Patient preference
Some vocal cord disorders may be easily treated with rest and avoidance of the behavior causing the disorder. Other treatment options include:
Medication
Speech therapy with a speech-language pathologist
Treatment of contributing medical conditions, such as GERD, allergies, and thyroid disorders
Increased hydration
Quitting smoking
Stress reduction
Surgery to remove growths or biopsy lesions
Vocal Cord Dysfunction (VCD)

Vocal cord dysfunction (VCD) is a disorder in which the vocal cords close rather than open as you breathe, making it difficult to get air in and out of the lungs. VCD can occur suddenly and be severe, requiring emergency treatment. VCD is often misdiagnosed as asthma, as the symptoms are similar.
Symptoms of VCD include:

Difficulty breathing
Frequent coughing
Tightness in the throat
Wheezing
Hoarse voice
Choking sensation
Triggers of Vocal Cord Dysfunction (VCD)

While asthma can be treated with bronchodilators to restore breathing, VCD does not respond to such medicines, as it is not related to the immune system or an allergic response. There is no definitive cause for vocal cord dysfunction, but triggers can include:
Strong fumes or odors
Upper respiratory infection
Gastroesophageal reflux disease (GERD)
Smoke
Post-nasal drip
Exercise
Stress
Diagnosing Vocal Cord Dysfunction

Diagnosing vocal cord dysfunction can be difficult due to its similarity to asthma and because patients with VCD often suffer from asthma, as well. Your doctor will need to test your breathing, preferably during an attack, in order to determine if you have VCD.
Vocal Cord Dysfunction Testing

Spirometry test: Breathing test that measures airflow in and out of the lungs
Laryngoscopy: Medical procedure which utilizes a flexible fiberoptic tube (laryngoscope), inserted through the nose, to examine vocal cords
Exercise test: Patient may walk on a treadmill or ride a stationary bike in conjunction with the breathing test
Inhaling methacholine: Induces VCD symptoms in order to confirm diagnosis
If you are diagnosed with vocal cord dysfunction, treatment to prevent or control the disorder will involve speech therapy and breathing techniques to train your throat muscles to relax. You may need several appointments with a speech language pathologist to learn the speech therapy techniques.
If you have any issues with voice changes or vocal cords disorder, and would like an appointment with one of our physicians at Fort Worth ENT & Sinus, please complete an online appointment request or phone 817-332-8848.